Cottage with pool Florence hills – Castello del Trebbio villa with pool in Florence hills
The Castello del Trebbio agritourismo, a 350-hectare farm cultivated using the certified Biointegrale® method, is located just a few steps from Florence in a dominant position on the Chianti Rufina hills.
This distance from polluting sources and noises, with healthy air, a beautiful landscape, the possibility of walks on foot or by mountain bike, a night's rest in absolute silence and the genuineness of Biointegrale® products, make it a natural wellness centre and an ideal place to spend a relaxing, regenerating holiday for adults, while fun and educational for children.
There are three beautiful swimming pools at our guests' disposal, immersed in the greenery of our Tuscan countryside, to ensure that while you are enjoying the pleasantness of a dip in the fresh water, you can also soak in the view of the picturesque landscape.
Two of the swimming pools are for the exclusive use of our villas, while the third is used for some of our apartments.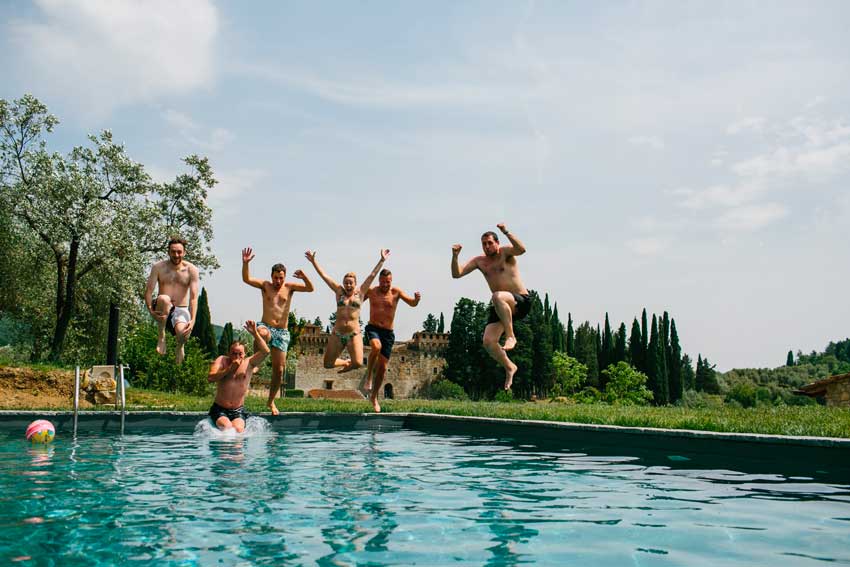 The seasonal opening of the farm's swimming pools officially goes from May 1st, with the arrival of the first timid rays of the summer sun, to September 30th, when Autumn begins to reveal its most beautiful colours.
Sun umbrellas and sunbeds are available to guests. It is also possible to rent pool towels at the structure by requesting them at the reception.
We would also like to remind you that it is possible to appreciate the genuineness of our sustainable kilometre products at the restaurant La Sosta del Gusto, which shares our Biointegrale® philosophy and which includes our products in its menu, from the wines to the I PURI food line.
Cottage with pool Florence hills